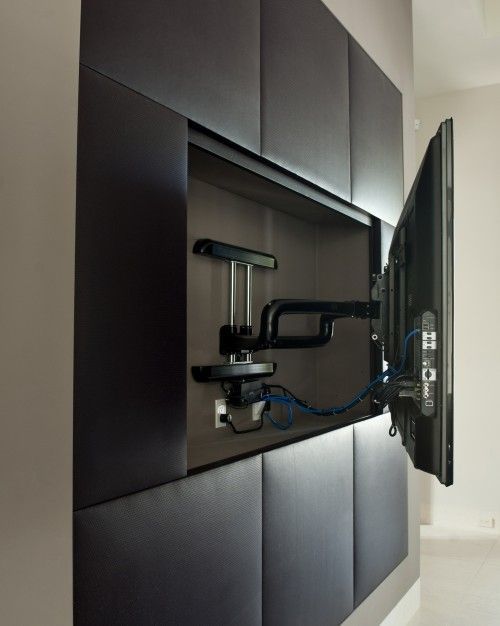 TV Wall Mount Installation in Sydney's Northern Beaches
With the evolution of flat screen TV's came the industry of mounting them. Different reasons for mounting them include:
Freeing up space in the area

Making the TV safer for small children with them not being able to pull the TV down onto themselves causing injury or smashing your brand new screen on the floor

Getting TV's into tricky or unusual spots such as near ceilings or out on the deck for parties or BBQ's

Creating a cinema type feel with your new big screen and surround sound. What could be better than that?
At Audio Integration, we have mounted hundreds of TVs over the years in all sorts of weird and wonderful places. From the normal lounge room wall mount to alfresco/BBQ areas, ceiling bedroom installations and even coming out of kitchen benches.
If you were thinking of mounting your TV we have an endless range of brackets to suit any mounting scenario. We can even customise brackets for really tricky situations.
Experienced in TV wall mount installation
Having worked in the construction industry for so long we understand how buildings are built and the structural capabilities of those buildings. You will always receive the right advice on whether a wall or ceiling or anywhere else can cope with the weight loads of the TV you wish to hang. We will never hang a TV in a way that is dangerous.
If you would like to free up space in your lounge room we can remotely locate all of your equipment in a cupboard or storage and cable to the TV giving you the ability to get rid TV cabinets etc. You don't need to be able to see your equipment to operate it.
Create that streamline entertainment area today!
We love nothing more than discussing your options and pride ourselves on our track record in Sydney and along the northern beaches, with services in home theatres, antenna installation and more. Give us a call about your TV
– we have a thousand great ideas!