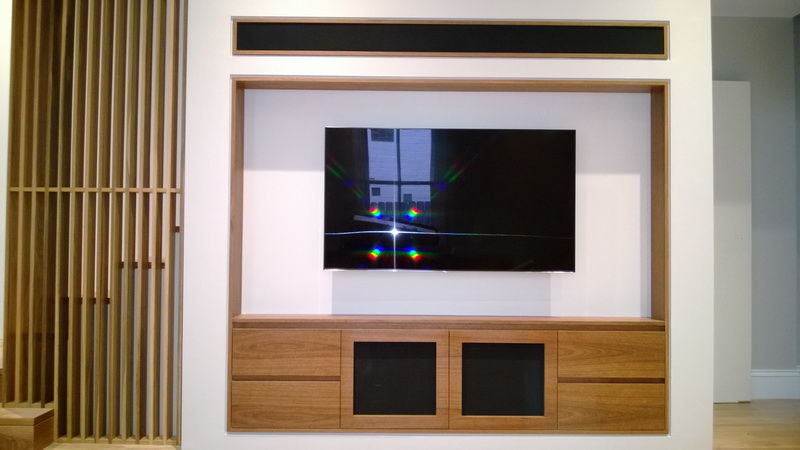 Sydney's First Choice for Home Theatre Installation
With the family home becoming more and more of a place of entertainment, the home theatre or surround sound room is becoming more popular than ever.
With so many products on the market there is a system to suit everyone.
Whether it be a TV wall mount and a pair of stereo speakers just to help you hear the TV better, right up to a full home theatre installation with huge screen, projector and booming sound there is something to suit your home.
Home theatre does not have to cost a fortune, we can design a room to budget and will always consult with you about how much you would like to spend so we can supply and install the highest quality equipment for the budget that you give us.
We will not try and up sell you anything that you don't need but will show you what is available so you can make your own decisions. Home theatres are as much about looks as they are about performance. Speakers can be very discreet in the ceiling, big industrial towers in the corners of the room or built in to bookcases or shelving.
Surround sound home audio – Perfect with guests!
If you would like to free up floor space all of your home theatre equipment can be remotely located in a cupboard or wardrobe avoiding the need for any cabinetry. You will be able to control it just the same as if it was in the room.
These days almost every product has some sort of internet connectivity, whether it be apps on TV for Netflix etc. or Foxtel on demand or a wireless sound system. This is why when we are quoting your home theatre room we will always look at getting data cabling to the room to connect all of your equipment. This will avoid any drop out watching movies or your music cutting out and will take a lot of demand off your wireless network.
If you are building new or doing renovations we will work in with your builder, electrician or interior decorator to get the look and performance you are after.
If you would like home theatre technicians in Sydney's northern beaches who are honest and love what they do, then please call or email us on the contact page. We would love to come and have a look at your project.